TRAVERSE CITY, Mich. — Along with cold weather comes flu season and doctors are preparing to give vaccinations.
Flu season typically starts at the end of November, said Dr. Andrew Adams, who practices at Thirlby Clinic in Traverse City.
State and national health agencies are reporting few cases of the flu so far, according to information from the U.S. Centers for Disease Control and Prevention and the Michigan Department of Health and Human Services.
The 2016 flu shot protects against three strains of the virus. It's a different formula from last year, which was not very effective for preventing the 2015 strains, Adams said. It's too early to tell whether this year's injections will fare better against the viruses.
 The CDC is not recommending nasal spray vaccines this year. Injections are covered by most insurances and cost about $30 each for uninsured customers, Mark Thompson of Thompson Pharmacy in Traverse City said.
"In the last couple years I've had several people who have not gotten the flu shot in a while who said they got influenza, or something very similar to it, and did not want to mess with it again this year," Thompson said.
More flu prevention means a healthier community. Sick people often don't realize they are infected with the virus until they have already spread it to others, Adams said.
Sick people could pass the flu to vulnerable populations, such as those younger than 5, older than 65, pregnant women, people undergoing chemotherapy or those fighting other illnesses.
Thompson shared advice should the flu strike and cause symptoms such as body aches, fever, chills and coughing: drink lots of fluids, get plenty of rest, avoid contact with others and take anti-viral medicines such as Tamiflu to reduce symptoms.
+3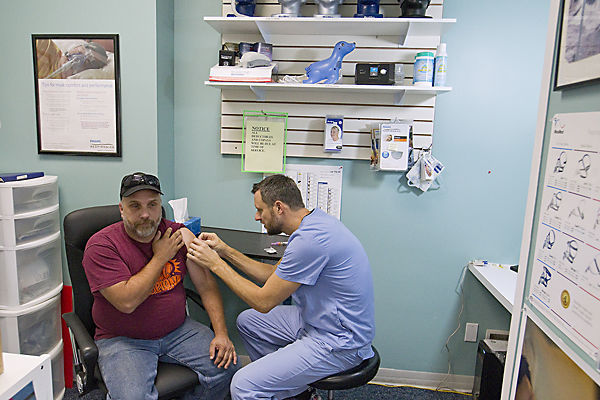 Thompson writes for the Traverse City, Michigan Record-Eagle. 
The original article can be read here.
Leave a reply